I was just looking at bangles on the Vogue website and they seem to be soooo in this year http://www.vogue.co.uk/fashion/trends/2012-spring-summer/chunky-bangles . They are are really summery and there is such a variety of styles to choose from that can glamorise your outfits. I've picked out my favourite designs from the shows
to find high street replicas of so
that we can sport this summer trend too.
.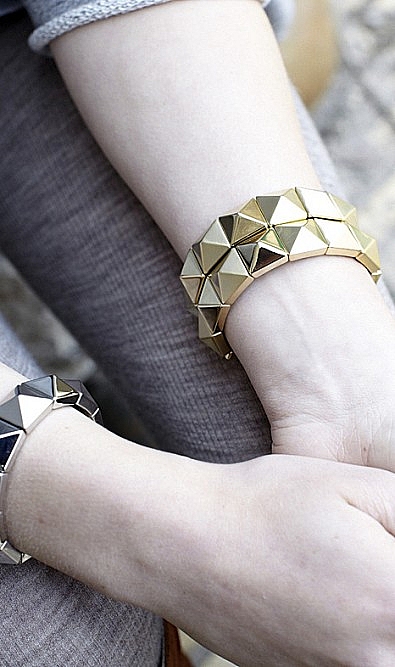 These chunky bangles come in silver and gold, so they will go with absolutely any outfit. They're in the sale at the moment, so order them before they go!
£7 at Plumo
I love the vintage look of these bangles, very classy.
£3 from a selection at Rokit
The brass and shell design is kind of like Marni's. They'd look great with a maxi dress for going out, or equally good with jeans and t-shirts for daytime.
£10 Accessorize
12.50 at Topshop
From Topshop, these bangles recreate the minimal chic of Tommy Hilfiger's bracelets.
£10 from Topshop
This semi-opaque bracelet is chunky and plasticy like some of Emporio Armarni and Balenciaga's designs. They come in a variety of colours you can stack or wear individually.
£9 from Ted Baker
I love these bangles because they're a bit edgy and different. Also, the snake is really cute!
These are £18 at Urban Outfitters, so whip out the NUS card.
The rosy gold and pale pinks are so on trend for this season, although these bangles are simple they will complement your summer outfits.
£7 by Pieces at ASOS