By taking a break from chemistry revision by looking at dresses, I have found one of
the
prettiest dresses I have seen in ages. It's weird because it is a combination of pale pink and lace in a peplum style - three things I'd normally stay away from, but it is sooo hot. The only downside is that it costs £349 from ASOS, so I'll never be able to afford it. However, it's got me looking at other girly dresses I'd normally say no to with a lot more reasonable price tags.
Antipodium Tempest Dress In Organza With Peplum Detail - £349 ASOS
Anyway, these are some of the best designer copy-cats I've seen this year from peplums to florals :)
Lace Peplum Dress by Rare
This one is by Rare and can be found at Topshop, I think it's really cute and would look great with a tan and either sandals or heels. At £49, it's £300 cheaper than the ASOS dress, and it would look great at summer parties.
Another summer style I quite like is the botanical themed dresses, this print works of all sorts of dresses from maxis to peplums to shifts. I found another expensive one on ASOS by MSGM which I liked becuase it isn't to girly and the shift cut could be dressed up or down. At £330 is is waaay out of my price range, but I've seen a really nice one on River Island which has an identical colour scheme and similar flowers. As an added little bonus, it is also peplum style, so you can nail two trends in one dress for just £45. I think it would look great at a wedding, because it's smart enough, but still fun enough that you won't feel like an absolute granny.
Shift Floral Boucle by MSGM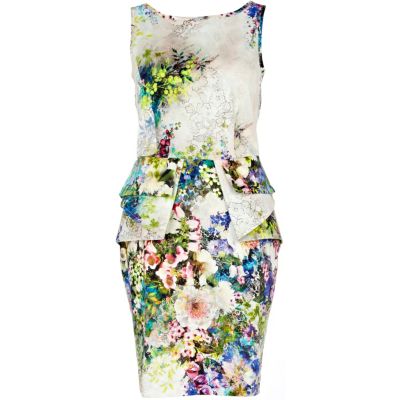 Blue Floral Print Structured Peplum Dress by River Island
Hitting the paisley trend popularised by Stella McCartney this year is H&M. This dress is sooo loud - not something I'd usually go for, but at just £29.99, it's a fab way of getting that pattern into your wardrobe. Paisley is something that that I have always hated because it made me feel sick for some reason. My parents' green and pink Cath Kidston blinds didn't help this, so I was surprised at how much I liked Stella's collection. She has brought the pattern into back by toning down the colours so that the print's not too overbearing.
Stella McCartney